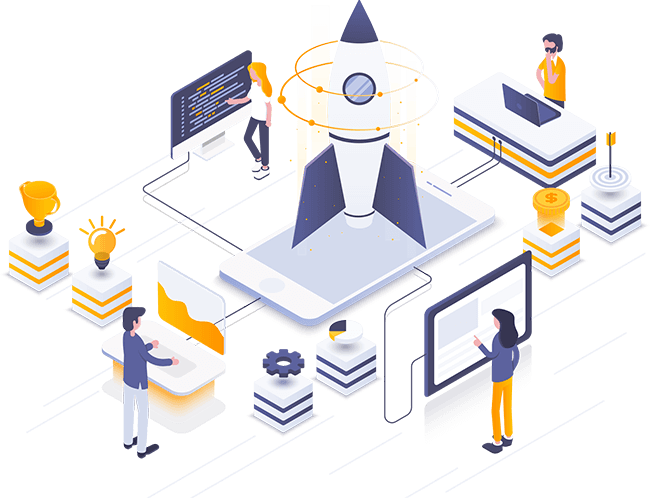 Digital Business Solutions
We help businesses plan, prepare and execute a digital business strategy that saves time, attracts customers and is easy on your wallet.
50% of Small Businesses

Do Not Have a Digital Strategy

, and most of them don't know where to start.
That's costing you money. We're here to help you profit online.
Digital Consulting Services on Consumer News TV
Click the video to watch Gary Atencio with CNTV, and Doug Sabanosh of DCS talk about marketing trends, best practices and how he helps companies translate business goals into reality by executing a digital business strategy to attract customers.
Helping Companies Translate Business Goals into Reality
PLAN. PREPARE. EXECUTE.
Overwhelmed by the idea of investing time, effort and money into your online business? A little can go along way. Surveys show 81% of businesses that invest between 5% and 10% of annual revenue in marketing experience revenue growth (source).
Our simple process establishes your brand, increases customers and boosts sales without breaking your budget. We take care of your marketing, so you can take care of your business.
Here's who uses us:
Start-ups that don't have a marketing strategy and don't know where to start.
Small firms that have a strategy, but not enough time or resources to execute it.
Companies where sales are stagnant and they need to boost their revenue.
Business owners who simply don't have time to venture down the marketing rabbit hole.
Doug is truly gifted at creating brand identity, with a rare combination of patience, spunk, and vision. Doug is driven by analysis, market knowledge, and a driving desire to do what's right for his colleagues and his customers.
We assess your situation and implement your business success system.
We Help You Grow Your Business
We take our time to understand your business, products and processes and craft a strategy to accomplish your goals. We help you create content, improve search engine optimization (SEO), understand your market, develop your website, generate demand and acquire high quality leads. We implement a custom strategy that provides you with key buyer information and market analysis that allows you to target the right buyers, at the right time, with the right information, and increase purchases.
We will build your business success system.
Strategy
Strategy is the key element to make your marketing and overall business effective. We take an approach that is focused on specific types of clients according to your criteria, certain needs or problems, and craft a strategy specifically for your business needs. 
Website Development
We assure your website is designed to be found on search engines, increase traffic, encourage engagement and entice visitors to buy. We increase SEO results so your buyers find you. We deliver you an optimized website that maximizes the impact of your brand.
SEO
We examine website structure, research keywords and analyze competitors to optimize both on-page and off-page. We use Google ranking factors to improve your organic and paid search rankings to ensure your SEO is working for you.
Content Production
We craft compelling stories, design sales materials and produce videos to fill your optimized website. We define market and industry problems, highlight solutions and educate audiences, while establishing you as an industry leader. We enable your sales team to move prospects closer to purchase.
Email Marketing
Email marketing is the most effective way to reach people. Email generates $38 for every $1 spent. We set up your automation systems and use email to highlight your products, engage with new prospects, move them towards purchase, and keep your existing customers coming back.
Social Media
Social media allows you to connect with your target market, prospects, and customers at any time. We help you grow your followers to increase awareness, keep prospects informed and generate referrals. We leverage social media to build trust by making strong connections.
"Doug sees and more importantly understands where marketing trends are going. He recognized what my business needed to increase engagement and maximize conversions. Working with Doug was like working with a friend – one that I am still talking with years later. I recommend Doug and his team to any company looking to enhance their brand and impment a marketing plan to ultimately grow their business."
"Doug took the time to understand my business goals and offered a straight-forward plan to reach them. He developed and executed a detailed digital marketing plan that developed an optimized website with email marketing and automation. He produced a ton of content that increased website traffic, user engagement and best of all it drove conversions. I strongly recommend Doug and Digital Consulting Solutions as a marketing service provider."
"Doug was a wonderful source of expertise and enjoyment in revamping my design website.
He was helpful in the planning stages of Design of the overall look and was very thorough and easy to work with. He listened and would make any and all changes I requested, and a lot of time, right when we were on the phone talking, which really expedited the process. I am getting rave reviews of my new site too.
I could not be happier!"
"Digital Consulting Services opened our eyes to the value of having a comprehensive marketing plan.  Our previous plan was very scatter-shot with disparate services from several different providers.  Doug came in and did a comprehensive analysis, provided us a strategic road map and worked with us to implement all the different segments of the plan.  Our marketing strategy has never been this organized and automated.  We recommend DCS as a knowledgeable provider and expert on all things marketing."
CONTACT ME TO GROW YOUR BUSINESS