The environment in which your field workers will use their tablets is a critical consideration when deciding whether to ruggedize your mobile devices or not. We're often asked if ruggedization is important or necessary for tablets used in industrial applications or severe environments.
Ruggedization is important in harsh environments, or in scenarios in which the device is more likely to be dropped, or exposed to extreme temperatures and/or water. But ruggedization is expensive as well.
Many times, firms that initially request ruggedization eventually realize that it's cheaper to put a rugged protective case on a standard tablet and risk the occasional replacement than spend the money to buy ruggedized tablets. It's likely that an employee can damage two or three standard tablets for the cost of a ruggedized one.
How do you determine whether your business needs a rugged tablet? In our years of providing high-performance mobile devices to businesses, we've boiled down the criteria for ruggedization:
Operating Temperature
Storage Temperature
Sealing
Drop Shock
Operating Temperature
You need to ensure your device is prepared to operate at any temperature it may encounter in the field – extreme heat or sever cold – so consider the tablet's working environment.
Storage Temperature
Similar to operating temperature, the temperature in which a tablet will be stored may determine the need for robust design. If the tablet is often left inside a truck, how hot or cold the in-vehicle temperature will get may be a determining factor.
Sealing
Sealing a tablet protects it from dust, dirt, water and moisture. The common standard for describing the level of protection for a device from exposure to these conditions is the International Protection Rating (IP rating). Typically, a two digit IP rating is used, but some cases, such as tablets for electrical equipment, call for added extensions.
First Digit:
Protection against Small Objects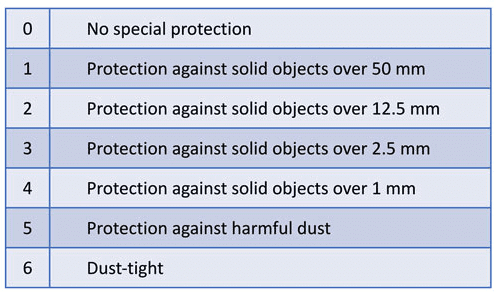 Second Digit: Protection Against Liquids